Everyone knows about the 9-1-1 phone system used by local governments to provide emergency services to their citizens. This is a popular and universal system with incredibly valuable features, that are easy to articulate to the masses. Why is it that we're not introducing similar systems in our enterprises to provide services to our users?

Now, I'm absolutely not asking, "Why doesn't your enterprise have yet another system to put out the figurative fires and sound the alert for every type of emergency that comes up?" The world has plenty of those and few are beneficial. What I'm asking rhetorically and what I'd like to see is more enterprises adopting the benefits of the 9-1-1 system in regards to request management, triage, routing, assignment, and the fulfillment of shared services for enterprise employees.

Let's recap how the 9-1-1 system actually operates. A user calls a unique, easy-to-remember number to engage with different, yet critical services -- usually at least police, ambulance, and fire. Through this single system of engagement, calls are then triaged and routed to the appropriate fulfillment group. That's usually done by the dispatchers of the police department, fire department, or ambulances. The 9-1-1 operators remove the selection-making burden from the user. What I mean by that, is imagine a call comes in alerting the authorities that a dog is locked in a car on a hot day. Is vehicular canine rescue of function of the Police Department or the Fire Department (or a separate Animal Control Department)? I don't know. A user shouldn't have to know either. It's a function of the operator to know and to route the calls as necessary. By eliminating the confusion of knowing who to call from the user's plate, the system ensures faster service delivery because the request wasn't mistakenly routed to the wrong department.

The user's call is then forwarded to the appropriate dispatcher -- a specialist knowledgeable in the services his or her department offers to the public -- who can approve and initiate fulfillment processes. That process may be a simple as ringing the fire house bell, picking up a radio and broadcasting an "APB" (All Police Bulletin) message, or may involve additional phone routing to other agencies. Whatever the dispatcher does, however, is invisible to the caller. The user just needs to know how to engage the system, initiate the request, and then can expect service delivery and fulfillment.

9-1-1 is a tried and true system that's had strong proliferation and staying power because it's relatively intuitive, it's easy to use, and it works. Let's dig into the elements that make the system useful and powerful:

Single Source of Engagement

Having a 9-1-1 system in place eliminates the need for citizens to put that magnet on the front of refrigerator with dozens of phone numbers to city agencies. Users don't need to memorize or know how to engage with every single department that can provide them with a service -- they only need to know one.

The management overhead of supporting multiple phone lines, call centers, or portals is reduced as well as a single entry point is easier and cheaper to manage and maintain. Can you imagine having to update and test dozens of IVR call trees in perpetuity? By placing your limited resources into having a single "front door", you save resources and even have the time to address UI and UX issues that go above and beyond the original requirements to really drive user satisfaction.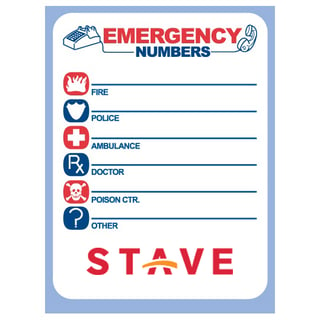 There's No Guessing Who to Call
By having a universal number, available from any phone it's a "no-brainer" for the users on how to engage the system. Most schoolchildren are taught about 9-1-1 and all ages can easily use it. While each department may have its own phone number -- and its own email, its own website, its own Twitter account -- the simple "front-end" means we don't need to memorize each contact. We memorize the one that works.
Are we doing this in our workplaces today, or do we have separate phone numbers and email addresses to contact IT, to contact Facilities Management, and to contact Human Resources? Have we combined the engagement systems from every department that offers internal services into an easy-to-remember and easy-to-access front-end for our employees? If we have, is that point of engagement advertised and known across all users?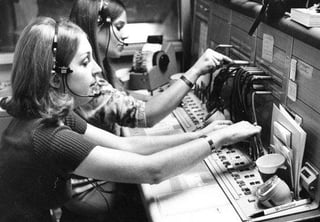 It's Easy to Add New Fulfillment Groups
Imagine if a bevy of calls started coming in reporting youth misbehaving at playgrounds during the day. Imagine if these calls were frequent and occurred every few days. Initially, the Police might be sent out, but maybe it would be better to send the school district's Truancy Officer. The Truancy Officer might work for a completely different organization, like the local school district, but probably has an interface to accept requests and that's probably a phone number or email address. Adding additional fulfillment centers to a 9-1-1 system is as easy as training the operator whom to forward the calls. This extensibility ensures that shadow solutions don't creep into use, undermining the official solution.
In your enterprise, what's the current on-boarding process for new service providers? How do they advertise their offerings and expose what they offer to your employees? Is this a seamless process, or does it cause duplicity, redundancy, and confusion? Are you tools flexible enough to offer automated workflows for completely new fulfillment scenarios? Do your existing SLAs, OLAs make sense any longer? Are your current data models flexible enough to be able to provide accurate reporting on any new request categories you may introduce?
The System is Scalable and Portable
Did you know that in many communities, a "Call Before You Dig" hotline exists at 8-1-1? Many freeways offer a 5-1-1 service to inform drivers about degraded conditions. 4-1-1 is an directory information service provided by the telephone companies to dispense information.
In addition to extensibility, the 9-1-1 has been scaled to various discrete N-1-1 systems. They inherit the design, architecture, and user experience, but offer their own unique purpose. This scalability is a testament to how good the original system is. Imitation is the most-sincere forms of flattery.
In your enterprise, is your request process scalable enough to work in a new location? In a new location in a new country? Can your process support an acquisition or merger of your company and other seamlessly? Are you able to feasibly "copy and paste" when needed?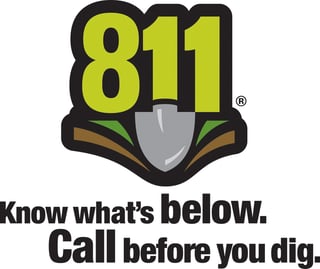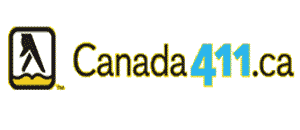 As we can see, the 9-1-1 system offers real benefits, is easy, intuitive, and can be ported into our companies and organizations to enhance our service request process. I'm not sure why more groups aren't adopting these practices, but as someone once told me, "good artists copy and great artists steal". Fortunately, the ideas of the Emergency system are solidly in the public domain. The question remains:
How can we implement the tried and true best-practices from the 9-1-1 system into our Enterprise?
The Answer is the Shared Service Model
There are many enterprises that are doing these best-practices today and it's not necessary because they reversed engineered the 9-1-1 system. It's because they've adopted a Shared Services Model. Following this model, enterprises can consolidate their service providers and offerings, and dramatically increase user adoption and satisfaction.
In such a model, the following key elements are implemented:
1. Departments and teams that offer internal services to the business, either to individuals or to groups are identified as service providers. Many enterprises start with IT, Facilities Management, and Human Resources as those are common and large departments that offer services.
2. A Service Catalog is defined. The Service Catalog is the single source of engagement for employees to see and initiate requests. It's the menu of items and services available to users or to their functional teams. Think of each department being able to answer the question, "What can you do for me?". There are many technology solutions available to digitally manage your Service Catalog and automate the fulfillment processes that come next.
3. A Request process is initiated, where the various services can be requested in an easy way. Just because you have a Service Catalog, doesn't mean it's interactive to the user, though to achieve real business value it should be. Most modern technology tools, like ServiceNow, express this with a friendly "shopping cart" interface where requests can be initiated with the omnipresent "Buy" button.
4. Fulfillment processes are defined, automated, and reviewed. The entire process can be captured in a digital workflow and encompass everything from approval chains, to notifications, to follow-up questions, to tasks sent to fulfillment teams. Continual Improvement processes are implemented, usually from collecting user feedback in the form of automated surveys.
5. New services and service providers are identified and integrated into the whole Shared Services experience, and the processes is repeated. This constant growth and improvement prohibits shadow solutions from competition with the official solutions, and allows maximum flexibility for the enterprise as it grows and matures.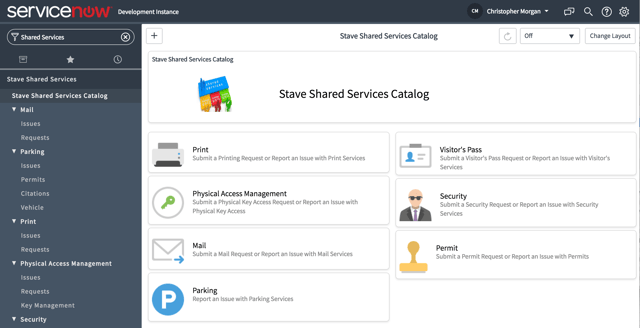 With the implementation of a Shared Services Model in your organization, not only will you see your customer satisfaction soar to new levels, you'll be able to maximize your investment in your service providers by automating requests and having real, accurate, actionable data to make future business decisions. It's a Win-win for users and the enterprise, and best of you you can finally and avoid all the emergency calls.