Most mature organizations wind up with copious amounts of data stored in their ServiceNow instance. While the data in ServiceNow almost always starts with IT-related records, such as Incidents and Service Requests, customers soon discover the extensible capabilities of the platform and its usage grows.
Fairly soon, an enterprise will be using ServiceNow as their authoratative system of record for Human Resource data, Facilities and Asset Management, and Security Incidents, among other things. In fact, most ServiceNow customer instances are storing data well beyond IT and often involving line-of-business processes, requests, and records.
The data stored in ServiceNow can be anything of importance to the business, but generally most records are time-sensitive, need to be shared with multiple users, and must be easily exposed to users in order to have visibility and insight to make business decisions.
Couple that with the on-the-go and mobile-first we live in and we quickly realize how important it is to be able to have data available to us literally at our fingertips.
We saw this scenario play out in the real-world with actual ServiceNow enterprise customers and that's why we developed the Stave Calendar app. Stave Calendars allows a user to take any type of record stored in ServiceNow -- anything from Incident records, to Change Requests, to a custom table created to track conference room usage -- and create a calendar feed of those records. Users can then "subscribe" to these calendar feeds and see those ServiceNow records in their calendar app as regular calendar events. And the subscriptions work on any modern calendar app available -- Outlook, Google Calendar, iOS Calendar, and more. Multiple events, complete with data about the records, can instantly appear across your devices. And if "instant" is actually too fast for you, Stave Calendars gives you full control on how often to sync the ServiceNow records into calendar events.
What that gives the business is an easy way to share time-sensitive records on the calendar app which those users base their days. Gone is the need to constantly be logging in and checking various tables in the instance, or having to create ServiceNow calendar dashboards to expose the records. Everything can be stored for your users in one place -- the place where they actually want to see it!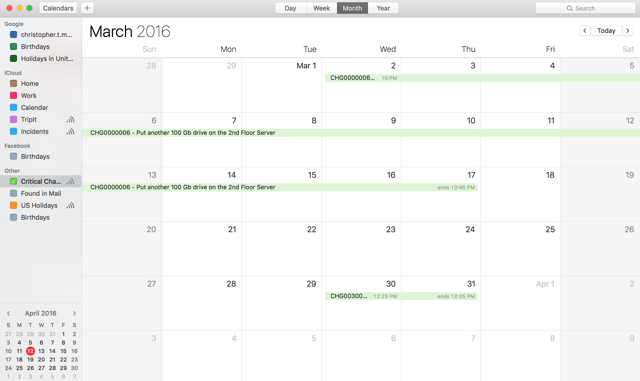 Now, you can automatically sync upcoming Change Requests across your IT team and across their devices for full and complete enterprise visibility. You can expose key personnel dates to your Human Resources team to support them being on the same page. And you can show real-time fulfillment delivery times on the items and services your users have requested from your service catalog. These are just examples; the options are endless, are flexible, and are fully-configurable by you.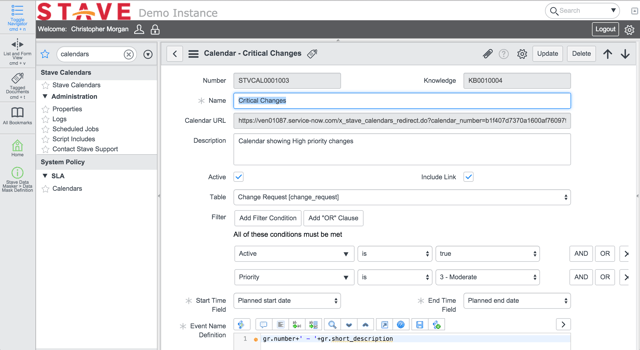 We then took the use-case a couple steps further. We realized that with most enterprise data, there was a security risk involved in having it open and exposed and we didn't want to do that. We're using ServiceNow's own contextual role-based security to secure the calendar feed and we allow admins full and explicit control on what appears in the calendar events title and description. This prevents data leakage, but it also makes it easy for a user to subscribe to the feed without the need for authentication.
Additionally, we're using the standard filtering features of ServiceNow to allow you to whittle down records and only expose those which are pertinent to you.
On top of that, we allow unlimited calendar feeds, unlimited device access, and unlimited user access to your data. As with all applications from Stave, full enterprise support, and access to future upgrades of the app are included in your subscription. Stave Calendars is available exclusively through the ServiceNow Store and is certified on the Fuji, Geneva, and Helsinki releases.
Together with Stave Calendars, you can keep your organization informed, up-to-date, and on-time.