Last quarter, for the first time ever, mobile web traffic finally surpassed desktop web traffic according to Google. That makes it official; more users get on the web from their phones than from their traditional computers.
This should come as no surprise; the trend started in 2007 with the release of the first iPhone. There are mobile-friendly websites for news outlets, e-commerce sites, government agencies, and the list goes on. Websites either expressed designed for mobile or responsive -- meaning they can automatically adjust their layout based on device screen size -- are in use everywhere.
In use everywhere that is, except most corporate portal sites.
Hosting a self-service web-based portal site for your end-users and customers to initiate and view their requests isn't anything new, and has also seen upward adoption trends in ITSM organizations for the past decade. These are portals designed to serve as the landing page for self-help. They are often designed and built in an ITSM tool, such as Remedy, Cherwell, or ServiceNow.
Yet even in the most modern of ITSM platforms, like ServiceNow, most enterprise have not adopted their "ESS portals" to play nicely on mobile devices. Make no mistake about it -- if your ESS is not mobile-friendly you are alienating over half of your users. This may mean you're slowing adoption of the portal, throttling productivity, or it may just mean that you're giving your users a sub-par experience. Either way, this is not the ideal and not what "the market" demands.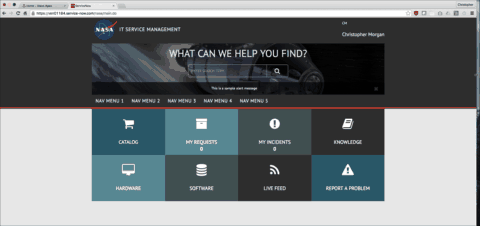 ServiceNow's ESS (for "Employee Self-Service") portals are build on a content display engine called, CMS (or "Content Management System"). Historically, CMS has not been the easiest part of the platform in which to work. And historically, CMS portals, by default, were not mobile-ready.
This all changed with the release of the Stave CMS+ application. CMS+ is a drop-in replacement for the default display engine in a ServiceNow instance. Among other features, portals built in CMS+ are responsive by default, meaning that they are not only mobile-friendly and mobile-ready, you can control the experience on larger-format mobile devices such as tablets or even larger phones.

Mobility and bringing the mobile web to your business should be important. Engage all your internal customers and deploy an ESS portal that you can showcase and everyone will want to use. We're happy to have brought CMS+ to the ServiceNow community and very proud of the amazing portals our customers have deployed. Let us give you a demo today and show how easy it can be to achieve mobility for your enterprise.