Cities across the country from New York, to Philadelphia, to Washington, DC, to Chicago, to San Diego are seeing success implementing what's a called a "311 system." Similar to the 911 system for emergency response, this is a phone system that serves as a "one-stop shop" for residents who need city information and services. It's a centralized system of engagement, and probably familiar to anyone who's studied ITIL and understands the concept of a Service Request Catalog and self-service portal.
For municipalities with multiple numbers for departments, citizens often have difficulty navigating the various switchboards to get a hold of the appropriate city service.
Additionally, a 311 system can help residents make "pull requests" from city departments, such as viewing open data reports, seeing committee agendas, and viewing the voting records of council members.
For those in the private sector, the same benefits and concept of a 311 system can be achieved through the implementation of a Shared Service model. A Shared Services model can serve as the framework for all the various services a business offers employees. Just like the citizenry, employees make requests from groups like IT, HR, and Facilities. Just like a government, those fulfillment centers may be spread apart and under different rulers and fiefdoms and laws.
The experience is identical. Your employees want a single menu that lists everything they can get. They want to know how to access it. They want to be kept in the loop on the status of the request. They want it to be easy.
Your business fulfillment centers may be in different buildings or countries. They probably fall under different leadership, and not all leaders may be customer-experience or customer-service focused. Each fulfillment group may offer different policies, or response times, or delivery times. It can certainly be a challenge to coordinate buy-in and execution of any new models.
Luckily, there's solutions to cut through red tape and bureaucracy in being able to implement such a model for your enterprise. Cloud-based solutions can be extended to include your specific catalog items and branded portals your users can easily navigate. These platforms offer a fast time to value, and avoid infrastructure and maintenance costs.
Our solution is the Stave Shared Services Manager that extends ServiceNow. We've pre-built common business requests and allow any business to easy add (or subtract) additional service providers, services, and request items on-demand. We're a huge advocate for mobile-friendly responsive portals for your users to use to engage, in tandem to a phone line or email box.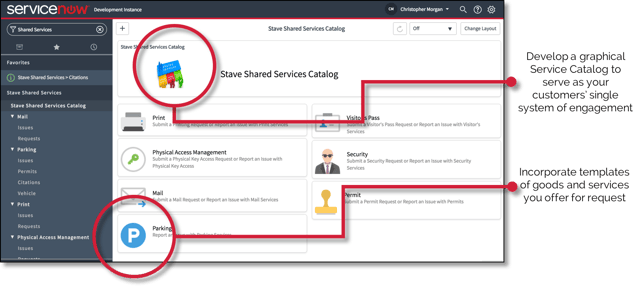 We feel there is no better way to engage your employees, empower them to do good work, and show them how the business supports them than using a Shared Services model and publishing a known centralized system of engagement. This unified approach to multi-channel engagement has shown to produce results in enterprises of all sizes and industries.

Now if only it were this easy to fight parking tickets from City Hall...